Blackhawks Previews
Let It Enfold You: Blackhawks vs. Devils Preview
It's the first game of April and Jonathan Toews is expected to be in the Blackhawks' lineup. That's not an April Fools Day joke. Or is it? (It's not).
The Blackhawks are back at the United Center to kick off the final month of this interminable slog of a regular season by hosting the New Jersey Devils on Saturday night.
The Devils' season has been everything that the Blackhawks' season has not, with a talented young core and a few excellent veterans having New Jersey near the end of its best regular season in a decade. Since losing in the 2012 Stanley Cup Final, New Jersey has made the playoffs just one time and exited in the first round that year (2018).
It's a good amount of homegrown talent atop the New Jersey lineup, too. Jack Hughes is living up to his billing as a No. 1 overall pick in 2019 with a breakout 87-point (40 G, 47 A) performance in his fourth NHL season. He's 21. The No. 2 scorer is 24-year-old Nico Hischier, a 2017 No. 1 overall pick with 71 points (30 G, 41 A) in 74 games. Don't forget about 24-year-old Jesper Bratt (31 G, 35 A) or 21-year-old Dawson Mercer (23 G, 28 A) – both Devils' draft picks as well! Added to this mix was Timo Meier (36 G, 23 A), one of the biggest prizes available at the trade deadline. Feel free to look at how that group was assembled and chart a similar course for the Blackhawks.
The blue line required some imports, most notably in No. 1 blue-liner Dougie Hamilton, who is faring far better in his second season with the Devils at a nice 69 points (19 G, 50 A) in 75 games. But perhaps the biggest difference in New Jersey from last season to this season is in net, where Vitek Vanecek has been everything the Devils needed after landing him in a trade last summer. He has a 30-10-4 record, .910 save percentage and 2.47 goals-against average, which are numbers probably closer to "above average" than "good" but still miles ahead of the collective goalie numbers for NJ last season: 27-46-9, .886, 3.52.
Put it all together and it adds up to a team that's top-10 in virtually every category that matters: second in 5-on-5 expected goal share (56.54 percent), fourth in 5-on-5 shot attempt share (53.9 percent), sixth in goals per game (3.43), sixth in goals against per game (2.71), and seventh on the PK (82.2 percent). Oh, and they're second in the Metropolitan Division with 102 points, which is the No. 3 mark in the entire league. New Jersey enters this game just one point behind the Carolina Hurricanes for the division lead and the 'Canes have a game in hand, so the Devils are still chasing home ice for at least the first two rounds of the postseason. And the hard-charging New York Rangersare within striking distance at 98 points, so the Devils very much have something to play for in this game.
As for the Blackhawks ... there's only one real thing to mention here: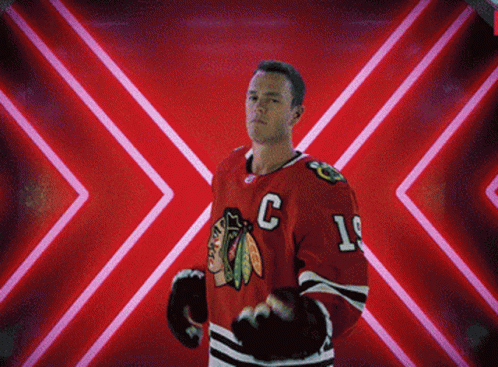 Captain Jonathan Toews will return after just over two months on the shelf for what's increasingly feeling like his final few weeks as a member of the only NHL franchise he's known. It may not invoke memories of vintage Toews, but seeing No. 19 out on the ice a few more times before that number heads to the rafters forever provides some motivation to watch in a season that hasn't offered much of that.
And put him on a line with Lukas Reichel, just for the sake of watchability when those two are on the ice together.
Let's go Hawks(?)
Tale of the Tape (statistics from this season)
Blackhawks — Statistic — Devils
43.41% (31st) — 5-on-5 Corsi For — 53.9% (4th)
41.92% (31st) — 5-on-5 Expected goals for — 56.54% (2nd)
2.41 (32nd) — Goals per game — 3.43 (6th)
3.59 (25th) — Goals against per game — 2.71 (6th)
52.6% (6th) — Faceoffs — 51.5% (11th)
16.4% (31st) — Power play — 21.4% (16th)
76.3% (20th) — Penalty kill — 82.2% (7th)
How to watch
When: 7 p.m. CT
Where: United Center, Chicago
TV: ESPN2
Radio: WGN 720